1-3 November 2023
Directions EMEA 2023
Directions EMEA is the "Go To" place where Dynamics partners share the future. It's the preferred global community for collaborating and learning from Microsoft, MVPs, ISVs, VARs and their peers. The focus is on helping the SMB market unlock its full potential in technical, business development and strategy with ERP, CRM, and Cloud solutions, including the Microsoft Power Platform, Microsoft Dynamics 365 Business Central, and Azure.
Welcome to
Lyon
Connect with the entire Dynamics community, including VARs, ISVs, Services Companies, Community experts, MVPs and Microsoft
Dive into 3 mind-blowing keynotes, +200 sessions, 15 immersive workshops, and 20 engaging roundtables. Gear up to be inspired by about 50 MVP speakers on stage and meet 97 sponsors in the expo area.

About 3,000 Dynamics professionals will be here, representing more than 900 partners from 70 countries.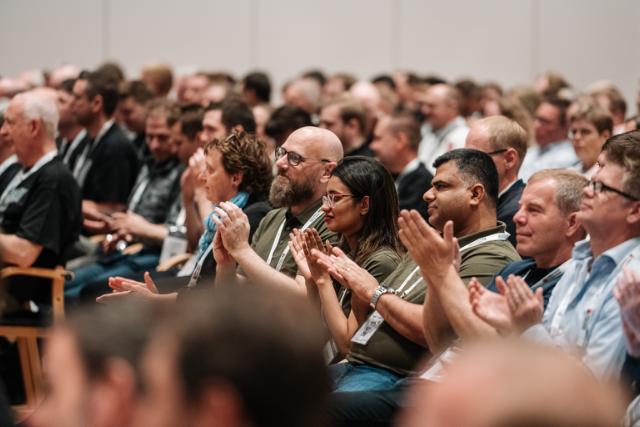 Recap
Thank

you
A heartfelt thank you to all our attendees, sponsors and speakers. Enjoy this recap of the first two incredible days at Directions EMEA 2023 in Lyon
This year, we brought together 2964 attendees from 803 organizations, representing 70 countries, and welcomed a total of 247 presenters to deliver the 3 keynotes and 248 sessions, round tables, and Q&A.
The content at Directions EMEA 2023
Check the
program
The session schedule is live! Dive into three exciting conference days packed with 3 keynotes, 200+ sessions, 15 workshops, and 20 roundtables. To make the most of your conference experience, start personalizing your schedule in the app.
This year, we're optimizing session rooms based on your preferences from the app, so be sure to add the sessions you'd like to attend in advance. Check the app to ensure you're heading to the correct room for each session.
Collect your badge at the registration area
18:00 - 20:00
Welcome Reception
18:00 - 20:00
Collect your badge at the registration area
07:00 - 09:00
Keynote day 1
09:00 - 10:45
Coffee break in the expo area
10:45 - 11:15
Lunch in the expo area
13:00 - 14:00
Coffee break in the expo area
15:45 - 16:15
Evening reception in the expo area
18:00 - 20:00
Keynote day 2
09:00 - 10:45
Coffee break in expo area
10:45 - 11:15
Lunch in the expo area
13:00 - 14:00
Coffee break in the expo area
15:45 - 16:15
Community Party
19:00 - 00:00
Keynote day 3
09:00 - 10:00
Coffee break in expo area
10:00 - 10:30
Coffee break with snacks
12:15 - 12:45
What our attendees, keynote speakers and sponsors are saying

Testimonials
Get ready to hear firsthand experiences from attendees, keynote speakers and sponsors who participated in this extraordinary conference in 2022 in Hamburg. They're sharing their insights, stories, and compelling reasons why you absolutely shouldn't miss out on Directions EMEA in the future!
Yes, this is possible, attendee pass is transferable.
English is the official language. All sessions (except for Country sessions) are in English.
There is always a vegetarian option in our menu. If you have any specific needs such as gluten or lactose free, please let us know in advance.
Sorry, but we don't share any details regarding our attendees. But we are more than happy to share our amazing sponsors and partners, their list is available here – link to website.
The app is called Directions Events App.
We highly recommend to do this asap, but at the latest on November 1st.
Please register yourself and everyone from your company to avoid queuing on site.
Make sure you provide the correct information. During registration there are fields called "Display fields", those will be printed on your badge.
You can pick up your badge on Tuesday between 6 – 8 PM during the Welcome reception which will take palce in the Entrance Hall and we highly recommend that to avoid queuing on Wednesday morning.
And of course, you can come on Wednesday to the registration in the Entrance hall between 7:30 – 9:00 am before Keynote 1. To make this as fast as possible, please prepare your ID card and choose the correct line (badges will be in alphabetical order).
Yes, we cooperate with optiMICE (Hotel for Events), their booking agent is available via this link.
The closest hotel to CCH Conference Center is Radisson Blu. But you can of course use any other platforms such as booking.com etc. We don't have any special contracts concerning hotel accomodation.
We can not invoice you without VAT - According to EU law we have to charge German VAT since the "service" is delivered in Germany – but you can reclaim it against our German VAT number on the Invoice.
Do you have a question?
FAQ
Got questions? We've got answers!
Explore our FAQs to find prompt answers to your common conference queries. Our dedicated team regularly updates this page with fresh insights or practical information as the conference date approaches.
If your specific question isn't covered here, don't hesitate to reach out to us using the button below!